Highway and Bridge Construction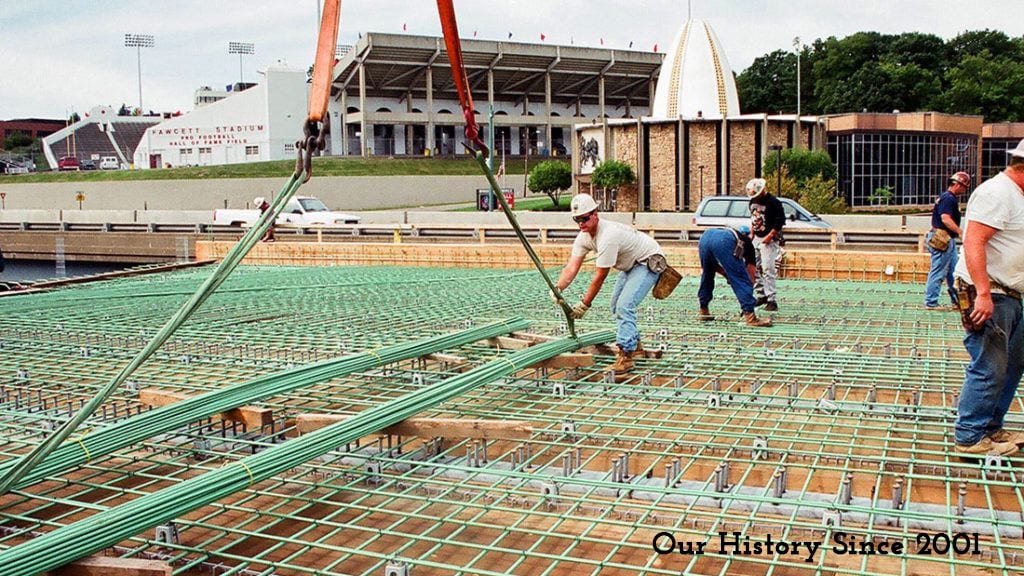 Since 1920, Whitacre Rebar has provided a wide range of steel rebar, welded wire, and wire mesh products for reinforcing concrete in highway and bridge construction projects. We strive to meet the highest standards possible, ensuring that our nation's interstate system is structurally safe and ready for the rigors of long term use.
Our Project Portfolio
Our various rebar sizes, welded wire, and couplers can be manufactured according to the customer's exact specifications. We're professional steel fabricators who carry over a century of experience in providing concrete reinforcement solutions for America's vital transportation infrastructure including:

We're a turnkey, single source steel fabrication company that can deliver high quality products and perform on-site rebar placing for highway and bridge structures. Our team undergoes continuous training and certification for reinforcing concrete slabs, formwork methods, and splicing. We understand how to integrate rebar, steel mesh, and plastic mesh in order to meet all of the structural standards required by the transportation industry.
We can manage and coordinate the entire concrete reinforcement process, from design to final installation, ensuring that the project is executed as efficiently as possible. For job sites that require large scale, high-tempo rebar fabrication, concrete mesh production, and reinforcement wire, we have the capacity to scale our production volume according to our customer's needs. For rebar splicing applications, our line of high strength couplers can enhance structural integrity and lower labor costs for virtually any concrete highway and bridge design.
Our work is performed in compliance with environmental regulations and local ordinance. We can conform to industry standards by DOT, ASTM, ISO, AWS, ASME, and RoHS. In addition, our concrete subcontractors share the same experience, service philosophy, and commitment to quality as we do, consistently delivering projects on-time and within budget.
Experts in Concrete Reinforcement and Installation
We're proud engineers and craftsman who take transportation safety, operational efficiency, and customer service very seriously. We've served interstate construction projects across the country and our latest involvement in Cleveland, Ohio's Innerbelt Bridge exemplifies the ideals that our team will always strive for.
For the best service and quality in concrete reinforcement for the bridge and highway construction industry, contact Whitacre Rebar to request a quote or to discuss your project specifications.